3 🔥 Tips for First Time Buyers
I recently asked my business partner, Kaleb Streeter, for 3 tips he would give to any first-time buyer. What he told me was so great, I had to share!
1. Get a "real" Pre-Approval
Most banks have online affordability calculators and other tools that you can use to find out what purchase price you may be able to afford. Those tools can serve as a good baseline, but the reality is, there is more to a mortgage approval than your basic income information.
Kaleb refers to a formal pre-approval as the "golden ticket" in real estate. Once you have one, you can actually go shopping with confidence!
Before you start looking at houses, meet with a mortgage professional at a bank or a mortgage brokerage, and provide the necessary information to get a formal pre-approval. Doing this will help avoid heartbreak, and ensures that you are looking at homes with a realistic budget in mind.
2. Act Quickly
Over time, house prices go up. In fact, in the last decade, they have gone up at a much higher rate than wages. What does this mean? It means that the longer buyers wait to enter the market, the less affordable homeownership becomes. Now, we're not recommending that you make a rushed decision and buy a house that you don't like. What we're saying is that if you can afford to buy your first home, decide what you want, find it, and pull the trigger!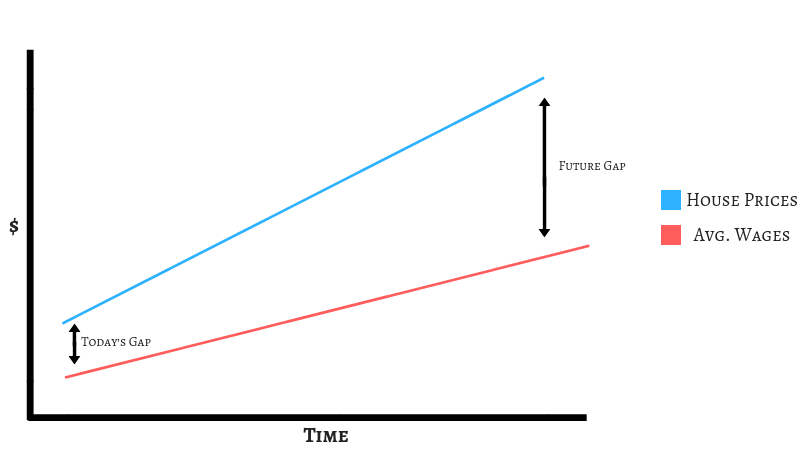 3. Your First Home Doesn't Have to be Perfect!
Let's face it - we all want a home that looks like it could be in a Pottery Barn Catalogue, right? Kaleb and I have had years of experience helping over 100 buyers find their next home, and all too often, we see buyers get caught up looking for the "perfect" home. When your goal is to crack into the Real Estate market, we recommend that you look for future value over perfection. Look for a home that crosses off your "must-haves", but also has some room for improvement. Fixing up the ugly powder room and removing Grandma's wallpaper could be your opportunity to build some serious equity so that you can be a little more picky for your next home!